Top 10 Best Olympic Weightlifting Shoes Of 2021
     No shoe can make up for poor strength, mobility, or technique. If you struggle to stay upright while trying to get deep into the bottom of your squat  or while doing the olympic lifts, a pair of olympic weightlifting shoes can make a huge difference in your performance.   
Best Olympic Lifting Shoes Reviews
Table of Contents
Top 10 Best Olympic Weightlifting Shoes of 2021
Things To Consider Before Buying
There are a few things to consider when buying a pair of olympic weightlifting shoes.  First think about your training
Are you a full time experienced weightlifter?

 

How important is value to you?

 

How long do you expect your next pair of weightlifting shoes to last you? 

Do you primarily do crossfit?

 
If you are a hobbyist weightlifter, or extremely new, the cost of entry can be high. You need shoes, straps, a weightlifting belt, and emotional fortitude. Don't bankrupt yourself if you can't afford to buy $200 shoes.  Your first pair doesn't need to last you two years. You will get what you pay for, but consider where you are at in your progression.  
A lot of crossfitters own olympic weightlifting shoes because of the olympic weightlifting involved in crossfit.  They tend to use them while strength training or while do very snatch / clean and jerky heavy workouts.  Crossfitters should not replace their crossfit shoes with olympic weightlifting shoes because they do not work well for things like cardio, or gymnastics.
It is important to pay attention to the height of the heel which could range from 1/3" to 1".  The heel that makes most sense for you will have to do with your unique anatomy, but for beginners finding an average height is a good place to start. The heel can also be made from different materials that provide different feel to the lift.  Plastic and wood are most popular, but the densities vary.  Soft heels should be avoided. 
Most olympic weightlifting shoes have a combination of laces and straps.  This lets you add stability on top of tightness to your feet.  This comes in handy because your goal shoes be to have the most firm connection to the ground as possible. 
Editors Choice: Adidas Adipower
The Adipower weightlifting shoe from Adidas combines maximum support and stability with a lightweight, flexible, custom fit. The unique, load-bearing design is precision optimized for a strong foundation—up to the standards of serious lifters at the highest levels of competition
The Trace Cargo version of the Adipower includes the classic three-stripe Adidas design with a hook-and-loop instep strap for rearfoot integrity, weightlifting-specific chassis, and a comfortable textile lining. Adidas's patented TORSION® SYSTEM helps secure the midfoot, while an additional heel overlay optimizes stability.
Men's Weightlifting Shoe
Flexible, welded 3-Stripes for lightweight, durable support
Heel: 20.1MM lift, 33.4MM height - integral rearfoot support
Hook-and-loop Instep Strap
Comfort textile lining
Weightlifting engineered Chassis
TORSION system for midfoot integrity
Color: Trace Cargo + Gum 5
Size Options: See Options Menu
Average price $100-$200
Nike Romaleo 4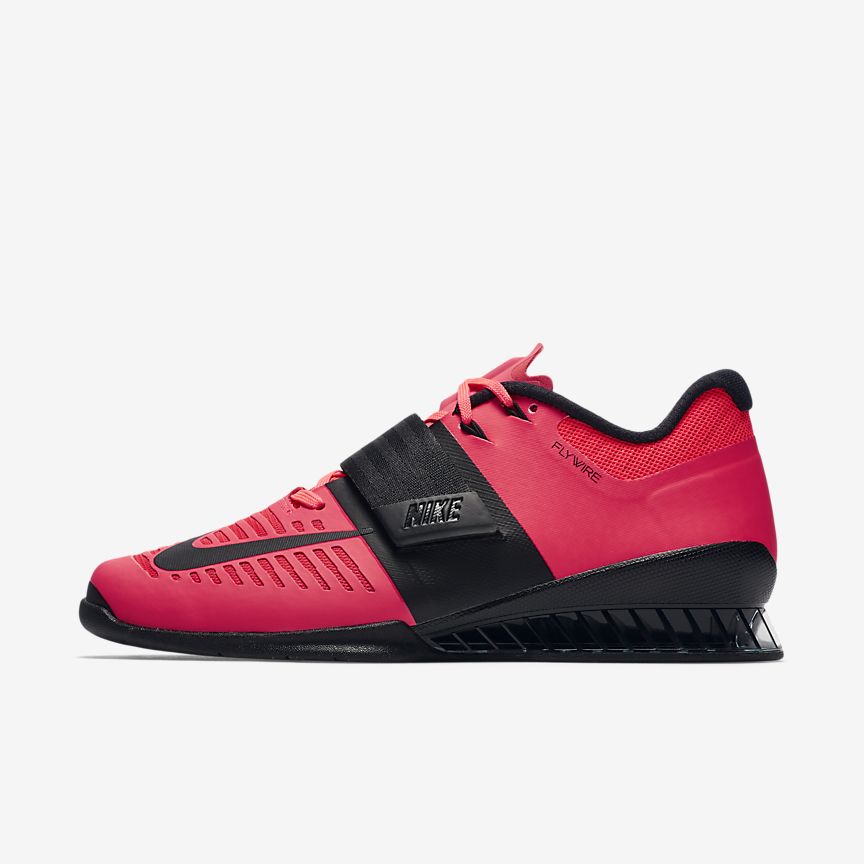 The Nike Romaleos 4 Weightlifting/Powerlifting Shoe delivers the stability and locked-in fit you need for intense weight training. Interchangeable insoles provide soft or firm support to match the needs of your regimen. 
Synthetic leather reinforces mesh on upper for support and breathability
Flywire cables and nylon midfoot strap offer dynamic lockdown
Two interchangeable insoles provide soft or firm support
Honeycomb TPU plate for lightweight stability during weightlifting
Solid rubber outsole provides durable traction
20MM offset allows natural movement
Average Price $100-$299
Adidas Powerlift 3.1
/p>
The Adidas Powerlift 3 heel's are a lower .6″, which make them better suited for a few activities. First, a lower heel may be a better option for athletes doing CrossFit style workouts. A smaller heel will help limit the feeling of being pushed forward, and that can be beneficial when moving from power to strength movements. Second, the lower heel may be ideal for those low-bar squatting who like a lifter's stability, but don't need extra heel for achieving depth.
Weightlifting Shoe
High Density Midsole
Extra Wide Fit
Open Forefoot Construction + Flexible Toe
Lightweight Synthetic Leather Upper
Breathable Air Mesh across tongue, lining, collar
Wide Instep Strap and Lace Closure for tight, secure fit
Slip Resistant Rubber Outsole
Color: Noble Indigo / Noble Indigo / Ftwr White
Average Price $49-$199
Adidas Leistung 16 II
 One of the more stable shoes we reviewed for weightlifting
 25-mm heel helped improve ankle mobility and posture during squats.
The BOA system is unique to the shoes we reviewed, and worked surprisingly well! 
Beautiful design and color options
Extremely good grip
flexible sleeve for flexibility

The review on the Adidas Leistung 16 II was extremely positive. It felt stable and in control when lifting. The elevated heel, stable grip, a flexible fit, and a wide, strong base made it a great choice. The BOA system was delightful to lift in and if we had not tried it for ourselves, we would have thought it was a gimmick. Users say that it is a durable shoe that should last the test of time. 
Reebok Men's Legacy Lifter
 The 3/4" heel height allows for optimal squat positioning, while the anatomical shape and two adjustable upper straps give you a customized, locked-down fit and feel. The grip rubber outsole keeps you grounded through your movements, while the Exoframe heel adds support and stability. The collar features a full foam lining with an achilles pad for added comfort.
Materials: Perforated synthetic leather upper with mesh for breathability
Designed for: Weightlifting, powerlifting
Anatomical shape with double upper straps for a customized, locked-in feel
Grip rubber provides traction and durability
Exoframe technology in the heel for added support
TPU heel piece in the midsole for stability and control
Weight: 20.3oz. 22mm Drop (3/4")
Imported
Product color: White / Black / Pewter
Average price $100 - $299
Inov-8 Fastlift 335
Raise the bar on your best workouts with the training shoe that features state-of-the-art weightlifting technology, the men's Inov-8® FastLift™ 335. Power through every lift, squat and press with this amazingly lightweight shoe that offers enhanced stability and superior support. Enjoy the added comfort of awesome flexibility from Inov-8®'s renowned Meta-Flex™ system, and snag a seamlessly secure fit from the no-seam upper and VELCRO® brand strap lacing cover featured on this easy-to-love workout shoe.
VELCRO® brand strap lacing cover: Provides a secure fit and foot placement
Nylon ripstop upper with a no-seam, welded construction: Allows enhanced durability when rope climbing
External Heel Cage: Creates lateral stability and comfort
Power-Truss heel featuring cylindrical tubes: Forms an incredibly stable base for lifting with reduced weight
Natural Fit with a wider toe box: For toe splay during lifts
Meta-Flex groove in the forefoot: Provides a natural flex point in the shoe
Suction cup outsole with inverse checker pattern: Provides secure grip
Average Price $125-199
 VS Athletics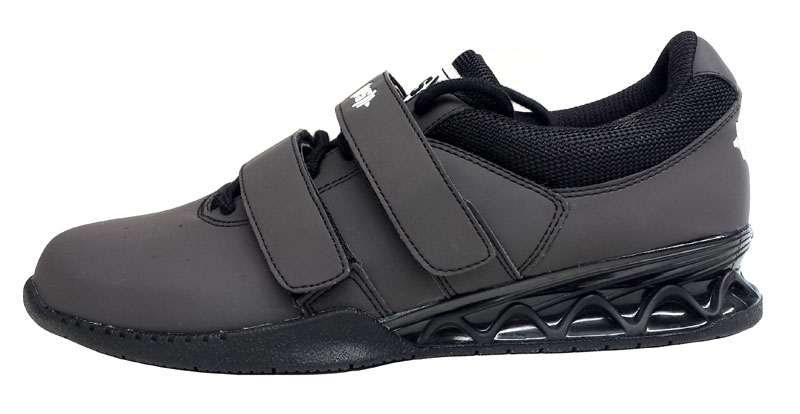 The shoe has a basic look and nothing fancy or flashy. It comes with two straps which is a welcome bonus for a shoe at this price range. The white and blank design is give the shoe a clean look and the hard rubber sole integrates well with the design. Overall good look for the money.
Hard rubber material on bottom of shoe.
TWO "Hook & Loop" straps over laces for added support.
Flat rubber sole.
Reinforced Heel Cup
Men's sizes: 5-12, 13, 14, & 15. (runs a half size small depending on your width)
Size 10.0 has a 3.5cm actual heel lift.
Comes with free VS shoe bag
Average Price $89-$120
Frequently Asked Questions
What are olympic weightlifting shoes and how do they differ from my other shoes?
Olympic lifting shoes are platforms. They serve purposes above and beyond that of shoes you may already have. They are made to be solid and rigid with a base from which to lift from. They are constructed of hard material from at least the balls of the feet back on the bottom in order to minimize movement and shifting of the feet. Straps or BOAs on top and over the top of the shoes stabilize the feet even more. The bottoms are made of solid material (either wood or plastic) to reduce compression, allowing a higher amount of the force you create be transferred directly to the ground.

They also alter your positioning. The heel is raised to assist in proper pulling and catching position. If you have ever failed a clean in front of you as you pull under it, you know how important it is to get into a deep bottom position with a vertical torso on the catch. Lifting shoes make it easier to do that.
Do I actually need a pair of olympic weightlifting shoes?
The truth is olympic weightlifting shoes will assist you, but they cant fix issues for you.  If you struggle with ankle mobility, hip mobility, or balance, you should continue to work on those things. Weightlifting shoes are the sprinkles on top of a solid foundation of mobility, position work, and strength. Do you need them? Yes, but you can and should be able to do competent lifts without them.