10 Best Crossfit Shoes In 2019
Best Crossfit Shoes Reviews
Table of Contents
Top 10 Crossfit Shoes Of 2019
What To Consider Before Buying a Pair Of Crossfit Shoes
When trying to decide between the best CrossFit shoe in 2019, there are a handful of things you'll want to look for. The character of a shoe that will be best suited to a crossfit style is important. Regardless, how you plan to organize your metcon regimen, the following things are vital.
Shoe Drop In a Crossfit shoe: The "drop" of a shoe is the chasm in height from the heel to the front shoe. Support shoes tend to have a very high dropThis is meant to help with movement within the foot from heel to toe, a great thing for running.
CrossFit shoes usually have a 4 mm drop. To keep god positions for weightlifting, this is much better than a shoe that moves you more off your heels. The lower drop helps spread your weight evenly through your foot, making it usually more suited to CrossFit metcon training.
Hard Sole In a Crossfit shoe: Many running shoes happen  to have more flexy soles to better help with movement through the whole foot. Weightlifting shoes usually have a firmer sole in order to better support you and keep you in proper position during lifts. You definitely want your crossfit shoes to be somewhere in the middle.
Having a hard sole will help you connect to the floor solidly while weightlifting, that is what you want. They will also help keep you more stably in position during movement. Make sure you also have enough grip in the sole to make moving in the shoes a good idea.
Durable Outer Shoe: Training is hard on shoes. The amount of wear they get, combined with rigorous exercises, can break down a pair of shoes in a hurry. Dont buy new shoes every 6 months
When looking for shoes, make sure to take a gander at the outer part of the shoe. Workouts such as rope climbs can cause soles to start ripping away from the shoe, so make sure everything looks sturdy. You may also read specific product reviews to see how certain shoes hold up over time.
Lightweight Crossfit Shoes: You dont want heavy shoes weighing you down in a workout. You want to get a shoe that's going to be lightweight.  This has to be balanced with support and Strength; as in everything else it's about trying to find the best balance for you.
Breathability In Crossfit Shoes: Heat comes out of your feet! When working out and producing extra heat, you need shoes that breathe Just like all workout clothes, you want to make sure your shoes are well-oriented to keep you cool.
Lateral Support In Crossfit Shoes: It's Important to have support is in your CrossFit shoes. Running and weightlifting have a lot prevelance and in CrossFit require excellent support and having the right stability for your feet can make a difference in how you feel during your metcon, allowing you to drive harder and meet aspirations more easily. 
Editors Choice: Crossfit Nano 8
The Nano 8 was designed so you can extend your physical limits. The brand new heel design ensures top performance with amazing comfort with the addition of a shaped midsole and sockliner. Toe tection adds strength in key areas for crossfit workouts. High friction rubber grips the ground as you push through lifts and forefoot flex grooves give you mobility and enhance your flex and balance.
CMEVA moulded midsole adds cushioning
Designed for: CrossFit performance, flexibility sessions, gym workouts
High abrasion rubber outsole for traction
Toe tection adds durability to the toe area for sports specific activities
Forefoot flex grooves improve performance
Materials: Flexweave upper for lightweight support and breathability
Weight: 10oz, 4mm Drop
Designed for CrossFit®
Average Price $89-$149
Nike Metcon 4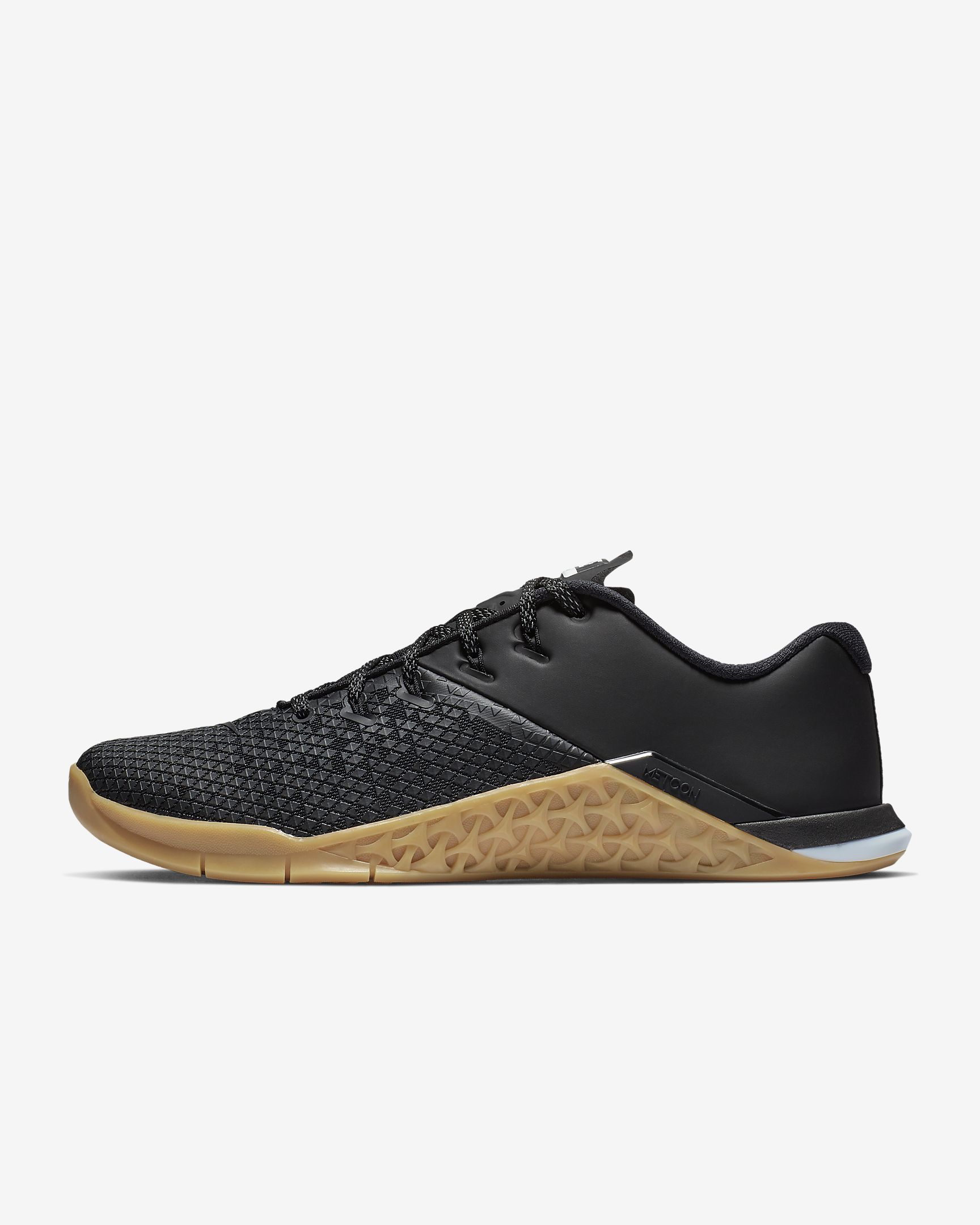 Nike's strongest crossfit shoe yet, the Metcon 4 is ready for speed, stability, explosiveness, and balance. This design includes a reinforced textured print from toe to heel, six eyelets for precision lacing; and a brand new array of color styles.
With a  midsole sleek rubber heel, and exclusive Flywire technology, Metcons deliver a stable fit and a durable flat platform foundation for heavy lifts. The shoe's molded flex grooves, light breathable style, and sticky rubber forefoot also give an athlete added grip and support through sprints, rope climbs, box jumps, distance runs, sled training, and day-to-day workout.
An abrasion-resistant film around the sole is critical to reducing friction during a high intensity workout, while the Metcon's traction grabs the gym floor, the track, and training arena far off the beaten path.
Men's Cross-Training Shoe, new for 2018
Drop-in midsole for added cushioning and flexibility
Textured rubber wraps up the midfoot for durability during rope exercises
Low profile, max-support heel for stability and minimizing drag
Molded flex grooves in the forefoot
Lightweight Vectran filaments (Flywire) for optimal structure and support
6 eyelets (vs 5 on previous model) for fine-tuned precision lacing
Soft tongue for added cushioning
Sticky rubber in forefoot for added traction on sled pushes
Heel Clip for side-to-side stability
Breathable mesh on heel and ankle
Offset: 4MM
Average Price $99 - $129
NoBull Trainer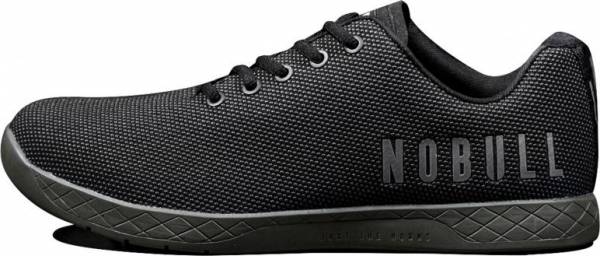 The recipe to success is NOBULL's ultra-durable SuperFabric®, made to handle  harsh weather, glass, and even barbed wire. Even better, the material is breathable, keeping your feet dry, cool and comfortable throughout a crossfit workout. The guard plates are applied to a highly mobile, light mesh base, giving you protection and unrestricted movement.
The outsole on the shoe was made for any environment, allowing for an easy move between the inside and outside with the right blend of mobility, grip and comfort. High lateral and medial protection are included for added on the sides.
The upper of the Trainer features a seamless one-piece construction of SuperFabric®, an extremely durable, breathable and abrasion resistant material.
The SuperFabric® guard plates are applied on a highly flexible mesh base layer, creating a 360 degree shield from zombies, rope climbs, and excuses. 
The outsole lug pattern was designed for multi-environment usage, allowing for an easy transition between inside and outside with the right blend of flexibility, traction and support. 
High carbon lateral and medial guards for added protection on sidewalls.
Reflective NOBULL logo for visibility when you need it most.
Breathable perforated microsuede tongue.
Molded, anatomical sockliner.
Medial rope grip.
The Trainer comes with two pairs of laces. 
4mm heel to toe drop.
Inov-8 Men's F-Lite 195
Stay flexible and confident with the F-Lite 195 V2 cross trainer.

Precision Fit offers a snug fit that reduces internal movement. Ideal for regular to narrow feet.

Breathable mesh and synthetic upper materials.

TPU lacing system is attached to upper for more even support throughout the foot.

Reinforced medial and lateral upper sections provides heightened protection for rope climbing.

Met-Cradle technology is built into the laces for a snug, secure, adjustable fit.

Lightly padded tongue and collar.

Breathable fabric lining for a great in-shoe feel.

Removable 3 mm foam insole.

1 Arrow Shoc-Zone™ midsole cushioning supplies highly-responsive underfoot sensitivity.

Heel/Toe: 9 mm/6 mm.

Differential: 4 mm.

F-Lite sole for maximum traction on hard pack terrain.

Sticky rubber compound strategically-placed in high-impact areas of the outsole delivers secure foot placement.

Meta Flex outsole grooves create a natural flexion point at the forefoot for more natural, efficient movement.

Rope-Tec 360 rubber outsole wraps around to the upper for maximum grip during rope climbs.

Dynamic Fascia Band promotes a faster, more efficient stride.

Imported.

Weight of footwear is based on a single item, not a pair.
Nike Free x Metcon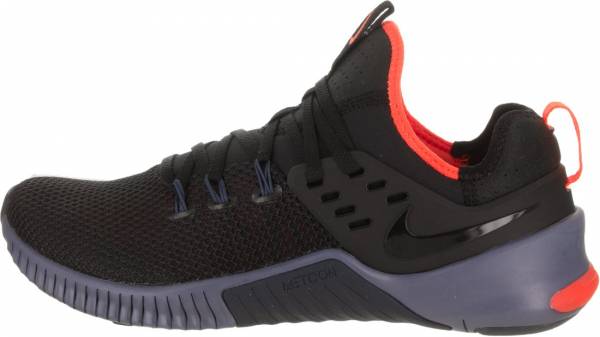 Created to make sure you feel nimble even when the bar is heavy, the Nike Free X Metcon shoes boast a light fit top end support so you are prepared for the next metcon. The mesh makes for a air breathing fit and meets up with a double dense midsole to offer amazing cusion and grippy comfort, while laser cut flexible grooves at the middle create a low-visibility hee rolls up the sides to enhance grip.
TPU-faced mesh provides lightweight durability and flexibility
Dual-density midsole with cold-fusion technology enhances stability
Laser-siped flex grooves promote natural transitions
Flywire technology integrates into the laces to add support
Comfort fit bootie design creates a flexible fit and easy on/off
Low-profile heel clip rolls up on lateral and medial sides for grip
Sidewall wrap-up design cradles heel and midfoot to help with lateral moves
Rubber wraps from outsole through the midfoot to resist abrasion
New Balance Men's Minimus 40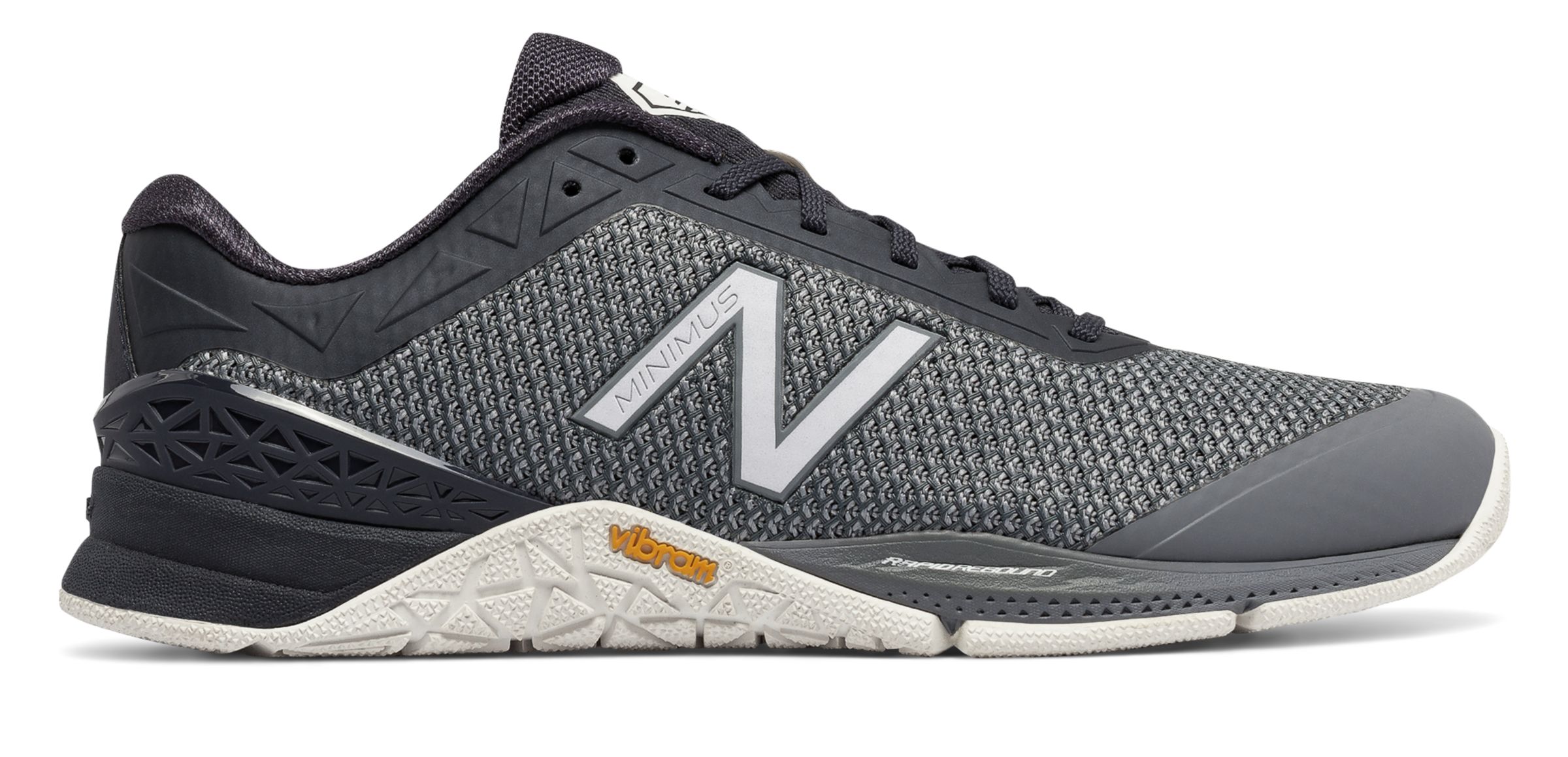 Easily alternate between weightlifting and conditioning with the versatile New Balance Minimus 40 trainer. The most run friendly crossfit trainer shoe to date, this men's shoe features a cushioned rebound to help conserve energize and your training is fully supported — plus solid in the heel provides added grip. As your intensity increases, you can count on the stability of the external heel, the grip of the outsole, and the comfort of the breathable synthetic/mesh. No sew overlays Synthetic/mesh  with TPU reinforcement Molded external counter NB Minimus is a whole new approach to footwear, a place on the spectrum from barefoot styles to the traditional maximum-cushioning shoes. Designed to be worn with or without socks, this Minimus shoe features only a 4 mm drop* from heel to toe.
5.11 Recon Trainer
This minimalist training shoe by 5.11 Tactical® works hard with you from your gym workout to your grueling training sessions. You'll enjoy comfort without sacrificing performance with the OrthoLite insoles and the intricately designed HELCOR® leather bindings give you structure and support from jump training to weightlifting. Target the rope zone and climb faster and harder in the 5.11 Tactical® Men's Recon Trainer shoe.
Minimalist training shoe
Stretch mesh upper moves with you
HELCOR® leather bindings provide structure and support
Full-length CMEVA midsole adds support
Stable rubber outsole delivers durability
OrthoLite insoles combine comfort with performance
Broad forefoot promotes balance and engagement
Toughened toe reinforcement for intense activities
Rope ready zone provides assistance during climbs
8mm heel to toe drop
Includes 5.11 Blood Type Patch Kit for fast action in a moment's notice
Frequently Asked Questions
What is the difference between running shoes and crossfit shoes?
CrossFit is a different type of workout than running. It has a constantly varied group of exercises meant to keep your body guessing. You can climb a rope, run day and lift weights all on the same day. You need the right shoes for this variety. While you can do crossfit in a running shoe, it is not ideal.
Crossfit shoes are light and flexible. Thy have a lower heel height for lower stability and the prevention of ankle sprains. Crossfit shoes have material that make up the upper portion of the shoe that wraps around the foot to provide a more solid fit. This helps the foot to remain in one position inside of the shoe.
There is another important difference. A thin sole allows better support when the trainer is lifting heavy weights.  Thicker soles add cushion while running, but provide less stability and displace force when you are lifting. Having a shoe with a minimal sole gives a CrossFit trainer much more control over all of activities that they will undertake. 
Do I Need Crossfit Shoes to Do Crossfit?
There are no strict rules about what shoes one can use when doing CrossFit, but wearing the right shoes can mean being more efficient and comfortable.  This can help you break your own personal records, if only by inches. CrossFit shoes are created for high-intensity workouts that involve jumping, weightlifting, running, calisthenics, and more. The trainer is constructed with durable materials that can withstand rope burns and other types of abrasions. Do you need them? No, but you will thank yourself for getting a pair.